About Widener University
Widener University is a private university in Chester, Pennsylvania. The university has three other campuses: two in Pennsylvania (Harrisburg and Exton) and one in Wilmington, Delaware.
Founded as The Bullock School for Boys in 1821, the school was established in Wilmington, Delaware. It became The Alsop School for Boys from 1846 to 1853, and then Hyatt's Select School for Boys from 1853 to 1859. Military instruction was introduced in 1858, and the school changed its name in 1859 to Delaware Military Academy. It moved to Pennsylvania in 1862 and became Chester County Military Academy. It was known as Pennsylvania Military College after 1892 and adopted the Widener name in 1972.
About 3,300 undergraduates and 3,300 graduate students attend Widener in eight degree-granting schools. The university offers associate's, baccalaureate, master's, and doctoral degrees in areas ranging from traditional liberal arts to professional programs. The Carnegie Foundation classifies Widener as a Doctoral/Research University and a Community Engagement Institution.
History
Widener University was founded in 1821 as the Bullock School for Boys preparatory school in Wilmington, Delaware, by John Bullock. Bullock operated the school until 1846 when it was sold to Samuel Alsop and renamed the Alsop School for Boys. In 1853, the school was sold to Theodore Hyatt and renamed the Hyatt's Select School for Boys, and again in 1859 to the Delaware Military Academy.In 1862, the school moved to West Chester, Pennsylvania. By act of assembly on April 8, 1862, the Pennsylvania legislature incorporated the school as a university under the name of Chester County Military Academy. In 1865, the school moved to Chester, Pennsylvania, and occupied the building which would become the Old Main building of the Crozer Theological Seminary. By 1868, the school outgrew the Crozer Old Main building and relocated to its current location.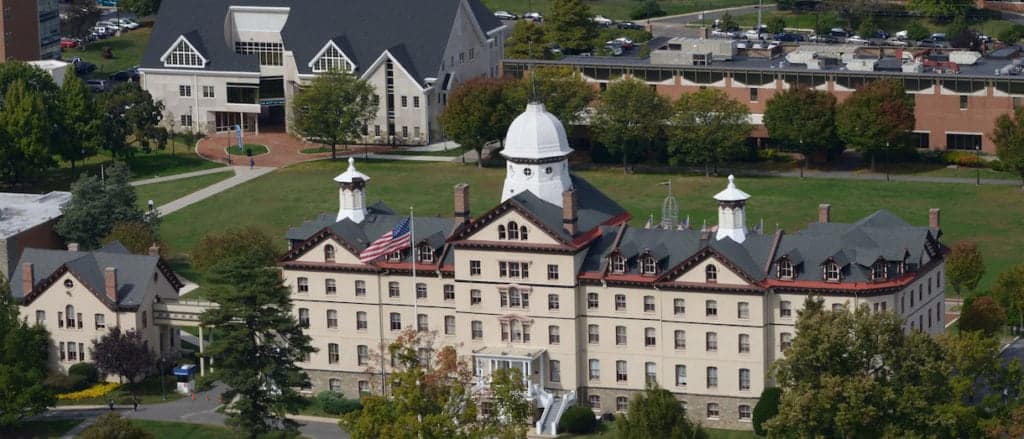 From 1892 to 1972, the school was known as Pennsylvania Military College (PMC) and was under the direction of General Charles Hyatt. PMC was once one of the nation's senior military colleges. In 1869, Pennsylvania Military College was the first school to have a U.S. Army detail stationed at the school and to receive federal arms for training. In 1904, the school was recognized on the first list of distinguished institutions published by the U.S. War Department. In 1923, "American March King" John Philip Sousa wrote and dedicated "The Dauntless Battalion" march to PMC's President (Colonel Charles E. Hyatt), the faculty and the cadets of PMC. Sousa had been presented with an honorary doctor of music degree by the college in 1920, and he was impressed by the cadet cavalry horsemen
Campus
Widener consists of four campuses, the Main Campus in Chester, Pennsylvania, plus campuses in Wilmington, Delaware, Harrisburg, Pennsylvania, and Exton, Pennsylvania. Founded in 1866 after the school moved to Chester, the 108-acre (0.44 km2) main campus consists of over 100 buildings and serves all undergraduate day students as well as Continuing Studies, Osher Lifelong Learning Institute (OLLI) students, and graduate students. Widener's graduate programs include business, education, engineering, nursing, social work, physical therapy, and clinical psychology.
Academics
Widener's comprehensive offerings range from liberal arts to professional programs and include over 50 undergraduate majors, 40 minors, and more than 30 graduate programs of study. In particular, programs in engineering, computer science, business, nursing, and hospitality management have generated the most praise from students according to a survey conducted by The Princeton Review. Widener offers a variety of majors and minors. Widener has an undergraduate student to faculty ratio of 12:1 with 90% of the full-time faculty having doctorates or the highest degree in their field. In addition, class sizes are kept small with 60% of all classes containing less than 20 students.