About Tokyo International University
Tokyo International University is a private, research-oriented liberal arts university in Greater Tokyo Area that is regarded as one of the most international institutions of higher learning in Japan. TIU was founded in 1965 with a focus on business and commerce, and upon earning accreditation from the Ministry of Education (MEXT) the college has grown into a private university that now encompasses five undergraduate schools and four graduate schools in the Greater Tokyo Area. TIU also has a sister school relationship with Willamette University, as well as an American campus adjunct to WU's campus (TIUA). TIU developed an English-based undergraduate degree providing majors in Business Economics and International Relations in 2014 called the English Track Program, and the international student body has since grown to roughly 1,200 students from over 60 countries. That one in every eight students at TIU is enrolled in the English-track degree program
Times Higher Education ranked TIU as the third most international university in Japan in 2017, and ninth place in 2018. Through a university study conducted by Nikkei Career Magazine released in June 2018, TIU received high praise particularly in "strive for educational development" (1st place), "contribution to local economy and society" (2nd place), and "ability to motivate students to succeed" (3rd place)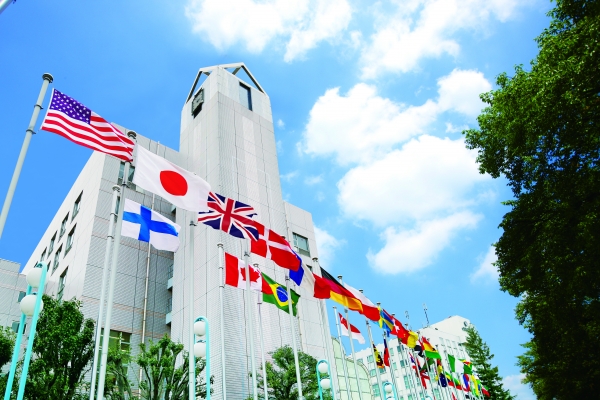 History
The university was founded in 1965 by Taizo Kaneko as International College of Commerce Kokusai Shōka Daigaku). In 1986 the school was renamed Tokyo International University Tokyo Kokusai Daigaku).[5] In 1989, Tokyo International University of America (TIUA), along with an American Studies Program were established in partnership with Willamette University in Oregon, USA. The one-year program at TIUA and Willamette University enables students to pursue academic goals, while developing intercultural and global awareness. In 2014, the university launched the English Track (E-Track) Program. This program focuses on providing Japanese and international students with the opportunity to earn bachelor's, master's, and doctorate's degrees in an all-English curriculum. TIU began to offer new undergraduate IT courses and a new master of science major in Digital Marketing and Business in April, 2018.
Campuses:
Tokyo International University will be establishing a new Urban International Campus in Ikebukuro, one of the busiest hubs of Tokyo where the university's educational globalization efforts will be centralized. The university participated in a bidding process to adopt part of the former mint bureau site, neighboring Sunshine City, and TIU's plan successfully won the competition. This land will be passed over to the university in October of 2020, and the campus facilities are set to be opened in September of 2023.
Artist's rendition of Tokyo International University's Global Campus in Ikebukuro, scheduled to open in 2023.
The English Track Program, as well as other educational globalization functions, will be centralized in this new campus. The university is planning to relocate half of the student body. The plan also includes academics and researchers recruited from around the world, which will further enhance international "brain circulation" in line with Japan's national policy.[8]
The university's main campus is in the area surrounding Kawagoe City in Saitama Prefecture, Japan, which is a part of the Greater Tokyo Area.
This new campus will be directly linked to the Kawagoe Campus via the Tobu Tojo Line as well as the Tokyo Metro Yurakucho Line, and it will take roughly 30 minutes to travel between campuses.